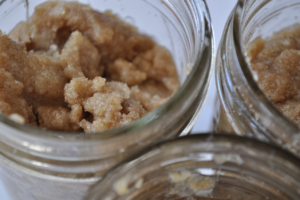 One of my favorite ways to treat myself is with homemade bath products. I usually have a large supply in the spring because my sister and niece like to gift them for the holidays. (Lucky me!) Making your own bath products is easy, inexpensive, and allows you to indulge your creativity if so desired.
Sugar scrubs are one of the simplest bath products to make. You can make a scrub with just two ingredients: brown or white sugar and oil (like olive, coconut, or grapeseed). I like to use brown sugar in autumn/winter and white sugar in the spring/summer. Fine salt can also be substituted for the sugar. You can also experiment by using different essential oils, combining the oil with butters like cocoa and shea, and adding herbs.
Benefits of using scrubs include not only exfoliating and moisturizing your skin but also increased circulation as you apply the scrub. Not to mention that little bit of glee that comes from making and using your own creation. I may not know how to raise a barn (yet), but I can make my own bath products! (OK, maybe some of us get more excited than others. And have more outlandish aspirations.)
This recipe from renowned herbalist Rosemary Gladstar is so simple, it's hardly even a recipe. There are infinite variations such as pumpkin spice and peppermint in autumn and winter and coconut-lime in the summer. Once you learn how easy it is to make your own sugar scrub, you'll only use expensive store brands for inspiration.
Brown Sugar Scrub
1 cup organic brown sugar (treat yourself to the good stuff!)
1/2 – 1 cup oil (enough to cover)
Essential oil of your choice (I like lavender)
In a bowl, add sugar. Pour in enough oil to cover. You can use herbal-infused oil, apricot kernel, sweet almond, or grapeseed oil. You can also add about 1/4 c. coconut oil or butters like cocoa and shea for an even more luxuriant scrub.
Note:  It's OK to use olive oil if that's what you have. But it is heavier and might leave your skin feeling a bit oily. However, it is great for dry skin in winter months.       
Cover sugar completely with oil. It should resemble a thick wet paste. If it is too runny, add more sugar. If it is too thick, add a little more oil. Bring to a thick and pasty consistency that is easy to spread.
Add 5 drops of essential oil and mix well. Add more essential oil drops if more fragrance is desired.
Store in a container for up to a week. Excess can be stored separately as a shower refill.
To use: Use about 1 heaping tablespoon, more or less depending on your preference. Massage the scrub into your skin using small circular motions to increase circulation and help exfoliate dead skin cells. (You'll probably want to avoid using it on your face where your skin is more delicate.) Once you've vigorously massaged into your skin, rinse off with warm water. Treatment may be carried out frequently throughout the week, or on an as-needed basis.
Caution: Using the scrub will make the floor of your tub extremely slippery! It's a good idea to wipe your tub with a paper towel after you're finished.