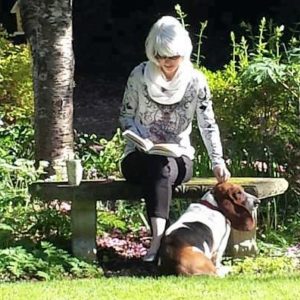 Hey there! I'm glad you're here.
My healing journey began over three decades ago when I suffered from chronic sinus infections. Antibiotics prescribed by doctors were ineffective in addressing my sinuses but terrific at decimating my digestive flora and causing other issues.
Eventually, sinus infections were joined by chronic neck and shoulder pain, minor depression, digestive issues and adrenal fatigue. TMJ and anxiety reappeared. I felt like I was slowly falling apart in my 30s. I was lucky to find a naturopathic doctor who concluded that my illnesses coincided with a hectic lifestyle that left me run-down and burned out.
I had a demanding career, and I tried to fit self-care into whatever my schedule would allow. Sometimes I had an exercise routine. Sometimes I planned and prepared healthier meals. But work always came first, and long hours usually meant backsliding on my health commitments.
I slowly began to explore alternative treatments: acupuncture, yoga, tai chi, qigong, Reiki, herbal medicine. I benefited from each of these, but they were just added to an already over-busy schedule.
It wasn't until I started practicing meditation that I began to see the underlying beliefs and thought patterns that drove me to burn-out. Greater self-awareness led to small behavior changes. One day, I realized that my priorities had slowly shifted. I felt more grounded and healthy and I wanted to stay that way.
Although my full-time job supported me financially, it didn't support where I was headed. I left and began intensive study and training in herbal medicine and nutrition, active meditation, energy medicine, and ancestral wisdom traditions.
During this period of accelerated learning, I devoted my days to wellness in its many forms. I began to listen to my body. I learned to follow and rely even more on my intuition. I observed Nature's cycles and seasons. I began to see the connections and patterns between people and the world around us. I gave myself the space and grace to feel into my gifts and let go of what was no longer serving me.
Self-Care / Self-Aware
My life looks and feels very different now. It is calmer and slower-paced. I move through my days with a greater sense of awareness, clarity and ease. There is less pressure and more pauses. I'm healthier. And I'm happier.
The holistic techniques I have used and trained in have helped me feel not only well, but whole again. They are time-tested as well as uniquely suited to support our well-being during these challenging times.
I'm deeply grateful for the opportunity to share these integrative techniques with people who are both curious and serious about exploring holistic ways of caring for themselves. 
There are many paths to wellness. I hope that you find something of value here that supports you on your own path to greater clarity, alignment and joy.

About the Name Goldenrod
When I began studying ethnobotany, I found myself drawn to those lowliest of plants in a gardener's realm: the weeds. After years of digging out dandelions and other unwanteds, I was abashed to learn that they and many other "weeds" are nutritious and delicious as well as ubiquitous. I wanted to give a nod to a green ally that was often overlooked or even vilified. I also wanted to find a name that reflected energy medicine and wisdom traditions. While in meditation, the name Goldenrod came gently calling and it could not have been more perfect.
The scientific name for the goldenrod plant is Solidago, which means "to make whole." (I guess I could stop right there!) The tall yellow spires of goldenrod – often wrongly accused of allergies actually caused by ragweed – abound in late summer. It is a strong plant ally for conditions including bladder infections, seasonal allergies, muscle aches, arthritis, and cold and flu care. You can also eat its flowers (wonderful in crepes) and leaves and use it as a healing tea, poultice, tincture, powder, or oil infusion. Goldenrod species grow all over the world, including native species in all 50 states in the U.S. and in Canada.
Golden rods, or pillars, are also found in ancient wisdom and healing traditions. Shamans, priests and healers created sacred healing space in part by envisioning large golden pillars surrounding their patient. Likewise, visualizing golden pillars is a technique used by modern-day energy workers when creating a safe healing environment for their clients.

My Bio and Credentials
Kimberly is also inspired daily by the Gene Keys, a synthesis of wisdom traditions with practical application in our busy, distracted lives. She completed the inaugural Gene Keys Guide program in spring 2021 and strives to cultivate the attributes of contemplation, inquiry, gentleness and patience on the journey toward greater self-understanding.
Kimberly has a Bachelor's degree in Psychology from Pacific Lutheran University and a Master's degree in public policy from Duke University. She spent over 20 years in public service advising executive leaders and implementing  complex government projects, including two national award-winning initiatives. She now uses her analytical and people skills to serve individuals looking for a better way to understand and care for themselves.          
Kimberly is a member in good standing of the Healing Touch Professional Association, Energy Medicine Professional Association, and the American Herbalists Guild, and adhere to their Code of Ethics and Standards of Care. Her business is licensed in Washington state and she is insured for energy work through the Energy Medicine Professional Association.