The end of July found us in Michigan for family reunions. Hubby's extended family hails from farming country at the "tip of the thumb" that juts out into Lake Huron. We stayed in the biggest city near the festivities: Bad Axe. (Sometimes I like to say it fast in conversation to sound more like a bad a-, um, Bad Axe.) We always enjoy heading back to see family we don't get to see otherwise. Hubby's mom is one of 11 children and his dad is one of 12 so there are always throngs of people who we barely recognize – or maybe have never even met. This time it was a "small" reunion with just his immediate family and relatives who live in the area. (Beware 2020 when everyone descends and there is nary a hotel room to rent in good ol' B.A.)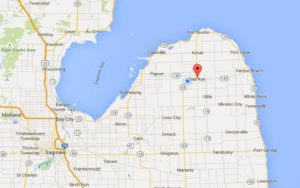 One of the great ironies of visiting farmland is that there are actually very few places to buy unprocessed food. Port Austin sports a huge farmers' market on Saturdays where my mother- and sister-in-laws sell homemade jams and winter wear from their alpacas. The market actually has many booths with homegrown organic or pesticide-free produce, but I was surprised to learn that most of the people who shop at the market are tourists, not locals. We were told that most people now shop for their groceries at Walmart and there isn't a large enough demand for them to stock foods that are easily found in stores in my suburban neighborhood.
So eating was a bit of an adjustment. Not to be food elitists, but when you have cut certain things out of your diet, your body doesn't let them back in without a fight. I was surprised to discover just how different our food choices have become. For example, we ate most of our breakfasts at a restaurant across the parking lot from our hotel. The first time we sat down the server asked us what we'd like to drink and then immediately said they had Coke products. What? Then she mentioned coffee, tea, and juice. I thought, "Who has a Coke product for breakfast?" I remembered counting an Orange Slice as breakfast in college, because, you know. Orange.
By the fourth day, I was bacon-and-egged out and we went to a different restaurant across the parking lot where I ordered oatmeal and yogurt with granola. I was excited to eat something more wholesome. When my order came, I looked down with disappointment at my maximum-processed instant oatmeal and my sugary vanilla yogurt. Blech. (OK, I'll acknowledge some food snobbery – but just from a nutrition standpoint.)
Later I spoke to a cousin who lamented how hard it was to eat well when there was so little available to buy. She said she resorted to buying some things like certain spices online, but had to pay exorbitant shipping costs. When she mentioned liking quinoa, my ears perked up. Her family ate quinoa, but she wished she had more recipes for it. I promised her I'd send her one of my summer favorites (although I don't know how many of the ingredients she will actually be able to find). If you have access to good food, and not just food-stuff, be grateful – and take advantage of it!
Quinoa (pronounced keen-wah) is an ancient grain that has been cultivated by Andean cultures for a few thousand years. It is packed with protein and is a good source of iron, magnesium, vitamin E, potassium, and fiber. Check the bulk section of your grocery store or buy online if you must! Whole grains (not ground into flour) are the cornerstone of a healthy diet. If you're sensitive to a particular grain, try another one and/or decrease the amount you're eating to one-third or one-half cup per meal.
Summer Quinoa Salad (recipe from The Spiralized Kitchen by Leslie Bilderback)
Note: This recipe calls for spiralized potatoes. If you haven't used a spiralizer yet, treat yourself! They are an inexpensive kitchen tool and fun to use for zucchini pasta ("zoodles") and much, much more. If you don't have a spiralizer, you can use thinly sliced potatoes instead.
Ingredients:
1 1/2 cups quinoa
1/4 tsp. kosher salt
1 cup sliced almonds
4 large purple Peruvian potatoes
2-4 Tbsp. balsamic vinegar
1 clove garlic, minced
1 pint blueberries
1/4 c. fresh mint leaves, chopped
1. Preheat oven to 375 degrees F. Combine quinoa, 2 cups of water, and salt in a medium saucepan and bring to a boil over high heat. At the boil, reduce to low and simmer, covered, for 15 minutes. Remove from heat and set aside at room temperature to absorb all liquid.
2. Spread almonds onto a dry baking sheet and bake until toasted and fragrant, about 5 minutes. Set aside to cool at room temperature.
3. Spiralize potatoes using the straight blade to create flat ribbons (or use thinly sliced potatoes). Toss in 1-2 tablespoons of oil, then spread out onto a baking sheet. Bake until tender and golden around the edges, about 10-15 minutes.
4. In a large bowl stir together remaining tablespoon of oil with vinegar, garlic, berries, and mint. Add quinoa, almonds, and potatoes, and toss together to coat evenly. Serve warm, or refrigerate and serve chilled. Season with pepper.
Variations:
Can't find quinoa? Substitute brown rice or barley, or other grain.
Grain-free? Substitute garbanzo or black beans for the quinoa.
Not berry season? Add dried fruit such as blueberries, cranberries, cherries, or even raisins.