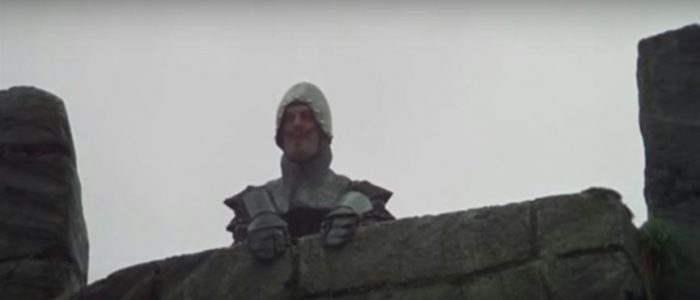 The ultimate French taunt: "Your mother was a hamster and your father smelt of elderberries!"
It's early September, and in my neck of the woods school has started (for those districts who don't have teachers on strike) and the rains have returned as well as the season's first colds. September is a "shoulder season." Much like March's transition from winter to spring, September's weather transition can be hard on our bodies. Usually I don't gear up for cooler temperatures until later in the month. But Mama Nature seems to be running a little ahead of schedule. Even the acorns have begun to fall, and I don't look for them until late September or early October (subject of an upcoming post!).
The reminder that Mama works on her own time hit home (literally!) when our newly-arrived exchange student came down with a cold overnight. I shouldn't have been surprised. He has been here less than two weeks and in that time he traveled over 6,000 miles, had three days to acclimate before starting school, got dehydrated on a trip with other students to Seattle, then walked home in the rain with a broken umbrella. That's a recipe for a cold if I've ever heard one!
Fortunately, my cold and flu kit was stocked and we immediately started a regimen of REST, elderberry syrup, REST, medicinal teas, and REST. Like many of us when we get a cold or worse, our student was looking for the quickest way to get better. After all, he hadn't traveled halfway around the world to miss his first full week of school! Although he would have liked a different bitter pill to swallow, he had to accept that lying low was really the best/fastest/only way to recover.
In addition to rest, our bodies benefit from herbal support while they're valiantly fighting off an intruder. My favorite go-to cold and flu herb is elder, specifically elderberries. People the world over have been using elder (flowers, berries, leaves, and stems) for thousands of years – as food, medicine, and for tools. Recently, scientists have begun to test the efficacy of elder in double-blind, placebo-controlled tests. In 1995, one such study found that 93% of the participants who took elderberry showed significant symptom improvement within two days as compared to those who took the placebo and did not show improvement until six days. A similar study in 2009 showed patients who took elderberry recovered from the flu four days faster than their counterparts who took a placebo. In 2009 during the H1N1 outbreak, researchers found elderberry to be effective against the virus in vitro.1
I began taking elderberry syrup over ten years ago. I can attest from personal experience that we are healthier because of it! It is helpful both for cold/flu prevention and for lessening their duration and symptoms. Elderberry syrup is available for purchase, but I recommend making your own if at all possible. Good sources for dried elderberries include Mountain Rose Herbs, Starwest Botanicals, and local natural food/health stores.
If you are comfortable with harvesting your own berries, it is more economical (and fun!) to do it that way. Make sure you are harvesting from the elderberry bushes with blue or purple/black berries, not the red ones. (Use the Sambucus nigra, S. cerulea, S. canadensis, or S. mexicana varieties. If you aren't sure, use a plant identification book. Photos on the internet don't always accurately label plants.) For the past few years we have harvested from huge purple elderberry shrubs in a nearby park. This year I was fortunate enough to score some blue elderberries from an herbalist friend's yard.  (Thanks M!)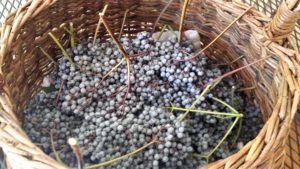 There are many ways to prepare elderberries. My favorite is still the first syrup I learned to make from learningherbs.com. The syrup combines the immune system-boosting properties of elderberry with the warming and healing spices of ginger, cinnamon, and cloves. This is a delicious syrup that is so good we have used it on pancakes. Warning: it will stink up your house when you're making it. Ergo the French insults in Monty Python and the Holy Grail!
ELDERBERRY SYRUP RECIPE
Put 1 cup fresh (or 1/2 cup dried elderberries) into a small saucepan.
Add 5 whole cloves, one cinnamon stick, 1 Tbsp. grated ginger, and 2 cups of water.
Cover and bring the water to a boil.
Turn down the heat, leave covered, and simmer until the liquid is reduced by 1/2.  This usually takes 20-30 minutes.
Mash berries while in pan, then strain into a bowl and add 1 cup of honey. (We buy local honey in glass jars. Local has lots of health pluses. Honey bears are cute, but are plastic and it's hard to squeeze all the honey out.) Here is the final product in a reused preserves jar.
Store the syrup in a closed jar in the refrigerator. We make small batches because they have a relatively short shelf life. However, I've seen different opinions about how long they last – anywhere from 2 weeks to 2 months. The syrup can also be frozen. We take one tablespoon per day in the fall and winter for cold/flu prevention. If we're fighting something off or are already sick, we increase the amount to about a teaspoon every hour or two.
 de la Foret, Rosalee,"Elder Monograph," Herbmentor, www.herbmentor.learningherbs.com, Date of Access, 13 September 2018. Specific studies cited:
Zakay-Rones, Zichria, Varsano, Noemi, Zlotnik, Moshe, Manor, Orly, Regev, Liora, Schlesinger, Miriam, and Mumcuoglu, Madeleine. "Inhibition of Several Strains of Influenza Virus in Vitro and Reduction of Symptoms by an Elderberry Extract (Sambucus Nigra L.) During an Outbreak of Influenza B Panama." The Journal of Alternative and Complementary Medicine 1, no. 4 (1995): 361–69. doi:10.1089/acm.1995.1.361.
Zakay-Rones, Z., Thom, E., Wollan, T., and Wadstein, J.  "Randomized Study of the Efficacy and Safety of Oral Elderberry Extract in the Treatment of Influenza A and B Virus Infections." Journal of International Medical Research 32, no. 2 (2004): 132–40. doi:10.1177/147323000403200205.
Roschek Jr., Bill, Fink, Ryan C., McMichael, Matthew D., Li, Dan, and Alberte, Randall S. "Elderberry Flavonoids Bind to and Prevent H1N1 Infection in Vitro." Phytochemistry 70, no. 10 (2009): 1255–61. doi:10.1016/j.phytochem.2009.06.003.